Senior Advisor, Communication Expert, Media Producer, Facilitator, Speaker
"A results-oriented social entrepreneur, Annika scans her surroundings to locate groundbreaking ideas that will swiftly, accurately and efficiently connect the dots to ignite and spur much needed solutions of tomorrow".
Annika Dopping is a catalyst, facilitator, management coach and business strategist with a unique set of communication tools developed during over 35 years of experience in strategic communication, spearheading a sustainable future and focusing on leadership, society, education, environment, governance, innovation and human issues.

Annika´s expertise in media production and strategic communication for sustainable development includes themes as leadership, education, facilitation, systems thinking as well as out-of-the-box thinking, synergy effects and continous improvement. Her consistent purpose is to benefit society, health and wellbeing, while generating customer and business value, fueled by her passionate gift to pollinate and enhance persons and organisations.

Her mission extends from being a catalyst, social entreprenuer and management coach, to producing and delivering business strategies, major conferences, events, workshops, books, TV/films/web and pod productions, as well as facilitating Swedish and international meetings/conventions, developing, refining and spreading best practices and sustainability concepts using the most effective communication means.
"Saying that Annika is a "good" moderator is like saying that Meryl Streep is a good actress – it doesn't even begin to describe the skills this person has. It's that combination of a soft, gentle and bubbling personality with a total control of the event she is moderating. She makes it look easy, chatting with people on stage, helping stressed and nervous speakers feel comfortable, making sure the right questions are being asked and answered. I have moderated a few events myself and know how difficult it is to make it look relaxed. With Annika as moderator, the event has the highest chance of becoming a succes"
Robert Almqvist,
Director Communications and Business Enablement CGI Scandinavia
Over the years Annika has developed a dynamic and rich toolbox to spearhead from and is known to swiftly and accurately identify the most urgent strategic concerns and ensuring efficient processes for her passionate and inclusive communication, internally and externally.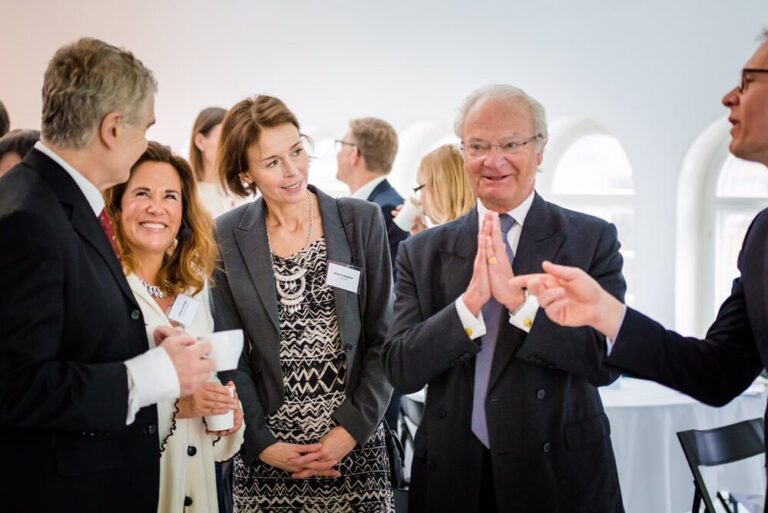 A highly accomplished Swedish TV-Producer and Host, Communicator and Content Provider, Annika Dopping specializes in Leadership, Societal and Environmental Sustainability.
Known for her expertise in creating unexpected synergies between concepts, ideas and individuals, for more than three decades she has delivered eye-opening and sensational projects driven by her integrity and authenticity. Through her various achievements she has won the hearts of the Swedish people and gained credibility from the Establishment.
Annika's passion and driving force has led her to interview high ranking profiles from many walks of life, including: Annika was hand-picked to translate President Clintons book: Giving: How Each of Us Can Change the World into Swedish in 2007, and to moderate the Once in a lifetime- speech by President Clinton in Gothenburg, Sweden, in 2007.
Selection of interviewees
President Bill Clinton,
King Carl XVI Gustaf and Queen Silvia of Sweden,
Jan Eliasson, former, Deputy Secretary, General of the United Nations,
Johan Rockstrom, Professor and Executive Director of Stockholm Resilience Center,
Mary Robinson, former President of Ireland and United Nations Commissioner for Human Rights,
Ingvar Kamprad, Founder of IKEA warehouse,
Anita Roddick, Founder of Body Shop,
Chief Oren R. Lyons, Traditional Faithkeeper, Onondaga Nation, Iroquois Confederacy, Member of the advisory committee of UNEP
Anthony Robbins, Coach
Indy 500 Winner Mr Kenny Brack and Buddist Monk Thích Nhất Hạnh, known as "Father of Mindfulness".
and numerous political leaders, ministers, scientists, CEO:s, writers, artists and elite sportsmen.
As an excited task master Annika spreads the word of important and crucial insights into achieving a better world for mankind.

As a messenger for sustainability concerns, leadership, health and complex science – all of which she has manifested into TV productions, films, books, articles, seminars and in moderating conferences on sustainability issues and leadership – Annika incessantly continues to foster new ideas and develop new alliances.
Swedish Baccalaureate exam in 1975.
Authorized physiotherapist, travel guide and destination manager, Annika joined the Swedish TV Academy for two years (1986 -1987) to graduate as a TV producer.
At the birth of Sweden's first commercial TV channel – TV4, Annika was headhunted to the position as Deputy Program Director. She stayed for two years (1989 – 1990), whereafter she formed her own production company, Annika Dopping & Co AB (from 1991), focusing on communication via film- and TV production, web-TV, multimedia, podcasts, books, conferences, education and travel.

Annika´s intercultural experience began with her first job, at 19, as tour guide in Morocco and site manager the following year in Scotland. After graduating in physiotherapy she found her true calling as creator and communicator, manifested not least in her own talkshow on the Swedish TV4 channel, ("Doppings styrkedroppar"), in which she highlighted numerous human issues and has earned a well-established personal brand and extensive network throughout all layers of society.
TV Productions – a selection
Produced/coproduced and hosted by Annika Dopping:
• "Superman And Sleeping Beauty"
• "The Psychopaths Among Us"
• "The Dopping Elixir"
• "Death Is Vital"
• "Tough At Work?"
• "Finally Growing Old"
• "The Wise Native Americans"
• "Quit Your Stressful Life"
• "A Richer Life"
• "Children – The Queen's Heartful Passion" (produced for the Swedish Queen's 60th Birthday and Childhood Foundation)